January 20, 2020
Why You Should Own A Condo With Walking Distance Amenities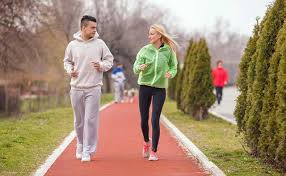 Is Walking Good For Your Health?
Sometimes, you should consider what is nearby your condo. Getting a condo that has nearby amenities enables you to use the car less, and walk more. Walking more benefits your health and in the long run, you will live a healthier life. It is also advisable to perform at least 10,000 steps a day. This article mentions the benefits of getting a condo or suite. To help you find the right place for you to stay, make sure to finish reading this article.
Consider its purpose. Are you getting much space to mainly relax or you need it to be functional as well? If what you want is a nice place to relax, and do other things like cooking, you should definitely get a suite. Suites have a comfortable bedroom with an extended living room and kitchen. This saves you money from eating out. It's a lot more convenient than having to look for a place to eat during every meal. The Verve Suites Jalan Kiara 5 would be the best choice for you. For a condo, Marc Service Residence KLCC would be a much better choice.
If you are lazy to read this article, then watch this video on what walking does to your body:
Now, it would make things less stressful, you'd just get a suite or a condo. You'd be able to get a ton of benefits. Here are some of them:
Price Advantage
The financial advantage of owning a condo is very clear. The rental payments of the same apartment come at a similar price. Therefore, mortgaging ownership is a good idea. This is because no money is lost. Moreover, you can gain money by investing in a condo.
Not in Charge of Outdoor Repairs
An owner of a traditional home is responsible for all outdoor repairs. However, condo residents are not responsible for such repairs. If you own a condo, you will not be tending to the garden or be mowing the lawn. The management will take care of everything but for a fee. This may include pool cleaning and roof repair. Since you will not be spending your energy on outdoor repairs, you can, in turn, use it for interior decoration. Also, you can attend to other important matters.
Lots of Amenities
Most condos come with a lot of amenities. For instance, you can exercise at the modern gym or swimming in the pool. In addition, most new condos come with complete stainless kitchen appliances, a dryer, and washer. Usually, condos have convenient parking garages. Unlike in an apartment where you may be forced to pay street parking fees, for a condo you can save that money.
Freedom to Renovate
If you own living space, you have the freedom to renovate the home. You should note that renters cannot rearrange the design of their space. In doing so, they forfeit their security deposits. When you own a condo, you have the freedom to rearrange the room to the way you want. You can do this without fearing any consequences. This is quite important for the family.
Community Living
Condo buildings offer a community feel. The condo meetings are known to create interaction. In this way, communication grows among neighbours. You cannot avoid interactions; they will occur at a particular time. You need to get the mail or remove the trash. Conversations can begin from anywhere. Over time, you will form friendly relationships. The Verve Suites and Marc Residence are very community-minded.
You'll Have Easy Access to the City
One of the main benefits of buying a condo is all about location. For the same price as a home, you can live in the centre of the city.
This can be particularly beneficial if you like to travel. You can leave your condo for months at a time and not worry about your home being in a state of disrepair upon return.
For more information, visit Verve Suites KL to know more about condominium units. Get your own verve mont kiara property or property for rent marc residence, if you aren't keen on buying a property.